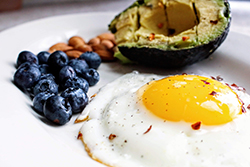 New research that was recently presented at the annual meeting of the American Academy of Allergy, Asthma and Immunology (AAAAI) suggests that certain patients with egg allergy treated with oral immunotherapy (OIT) tolerated egg 5 years later.
In the study, egg allergic patients were randomized to OIT for up to 4 years versus placebo. Testing was done to patients on OIT to determine whether patients could tolerate egg while on treatment (to evaluate desensitization). In addition, testing was done to see whether they were able to tolerate egg 4-6 weeks after stopping OIT (to evaluate sustained unresponsiveness). Patients did follow up with researchers up to 5 years after the initial treatment.
Results from the study showed that about 50% percent of patients who underwent OIT were able to tolerate egg after stopping OIT. About 28% were desensitized during treatment without sustained unresponsiveness. More research needs to be done in the future to determine who will most likely benefit from OIT.
For more information, please click the following link: www.aaaai.org