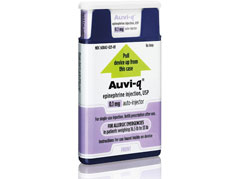 There is good news for parents with infants between 16.5 and 33 pounds with a history of life threatening anaphylaxis. Kaleo, the pharmaceutical company behind the life-saving medication, Auvi Q, announced that a 0.1 mg dose for their epinephrine autoinjector will be available starting May 1, 2018.
The Auvi Q 0.1 mg dose was approved by the FDA in the fall of 2017. Prior to the approval, there were limited options for parents with infants weighing less than 33 pounds. Epinephrine is the treatment of choice for serious allergic reactions as delay in giving this medication has been associated with serious consequences including death.
If you have an infant with life-threatening anaphylaxis who falls in this weight range, call for an appointment with one of our allergists to get evaluated. More information is available at the following link: www.auviq01.com
Make sure to follow and like us on social media including facebook, twitter and instagram to get the latest breaking news in allergy and immunology.