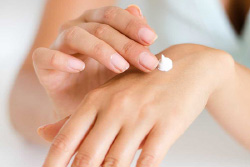 As research into eczema advances, the more allergists understand its association with other allergic diseases. Scientists have noted a phenomenon coined the "atopic march", which is an observed progression where infants who have eczema may develop food allergies, asthma and environmental allergies later in life.
It's been observed that about a third of infants who have eczema may eventually develop a food allergy. One of the proposed explanations is that cracks in the skin barrier from eczema may result in an inflammatory response when infants are exposed to food through their skin. Preventing and treating eczema early in life may be associated with decreased development of allergies.
Measures that can be taken include using lotions to help moisturize the skin and seeing an allergist if there are any flares to ensure that one's eczema is properly managed.